I have I have!
It's not too hard to do. I have some pics below on how I did it. So the difference is this is definitly a do-it-yourself project because it doesnt just screw off.
Things you need:
Sharp longer knife
Car spray paint
Car Clear Coat spary paint
sandpaper
bathroom sealant
newspaper
The front emblem is two pieces on the 06 and 07 TB LTs.
One part is built into the grill (silver piece) and the other is glued to the front of it (gold piece).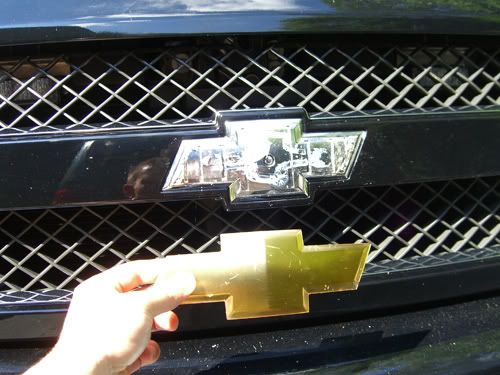 Pry off the gold piece by putting a sharp knife slowly behind it and cut the apoxy that is holding it to the car. Try not to bend the emblem for it will break and you will need it later.Take your time with this
Once you have the emblem off, sand the front down.
plop it on some newspaper and spray away with whatever color you desire, spray close and it will be shinier let dry ect ect wet sand if you want. Add a few more coats and a few of clear.
Take the bathroom sealant and plop some on the back of the emblem and push the emblem back onto the sliver embeded in the grill. Wipe off all the extra sealant and let dry and you are good to go!
Hope this helps