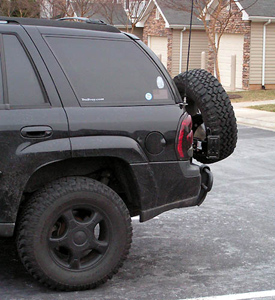 Teaser Pic!
---------------------------------------
It was about time I had looked for a carrier for the full size spare. I was tired of carrying it around on the roof for two reasons. First, the weight and hassle of getting it up there. And second, the wind resistance... my gas mileage is noticeably lower with it on the roof. The hitch gate was one option, but while excellent, I feel its a bit bulky and expensive. If I was getting a custom bumper made, I would have gone the swing-out route. But I liked Alek G's custom job, as it was lightweight and simple.
I've been working with Steve at
CBI Offroad
for the past 4 months trying to work on a design that worked for the Trailblazer. He generally specializes in Toyotas, but was happy to work with me. I send him my desired dimensions, and key specifications, and he began working.
I had a few particular things I was looking for. First was a pass-through receiver, so that I can use a receiver shackle mount for the rear. Second was a hi-lift mount. I didn't want wobble, I wanted to be able to see out my rear view mirror, and I wanted to be able to open the glass without having to swing down the carrier. Lots of stipulations, I know. But Steve produced: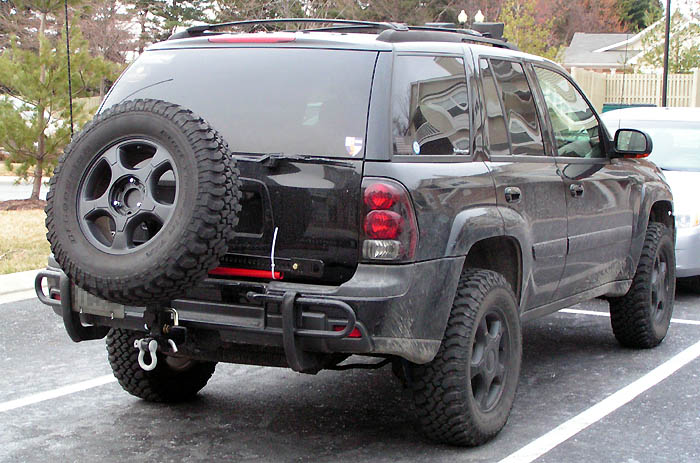 Note the pass thru receiver. Steve reinforced the central tube of the carrier to withstand recovery forces.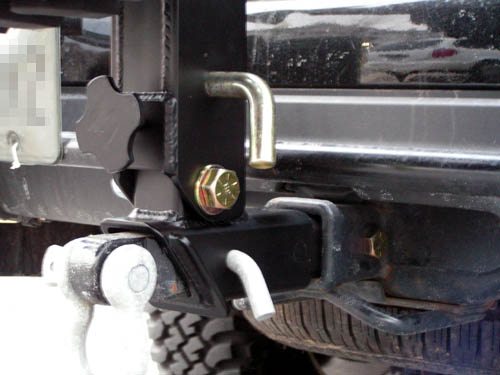 Instead of a hitch pin, the male end of the carrier is threaded. The bolts on either side are grade 8, and they take out all wiggle from that joint. Further back, you see the receiver tube. This is even cut at a angle to preserve the rear approach angle and act as a skid if necessary. Further up, you can see the tilt mechanism. This has a hand knob that allows you to tighten the carrier, and again get rid of rattles.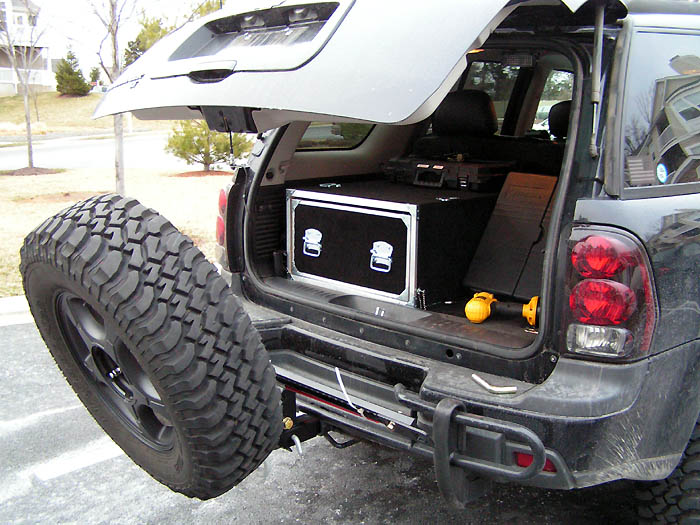 Use with the tire leaned back and the gate up. It's a bit of a tight squeeze to get into the trunk, but it's certainly workable.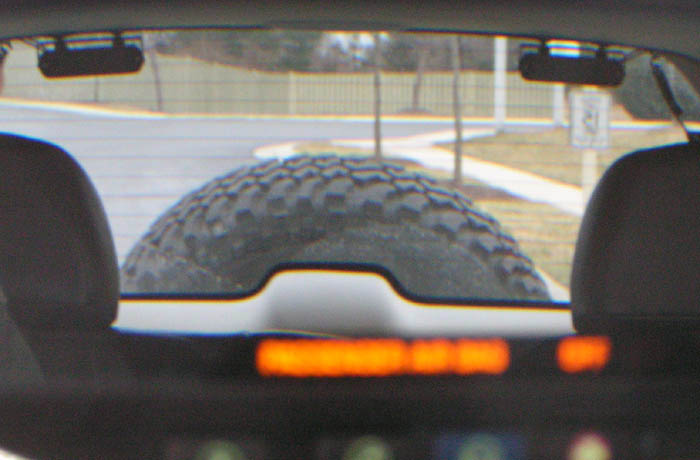 The view from the mirror. There's still lots of viewing room out the rear window.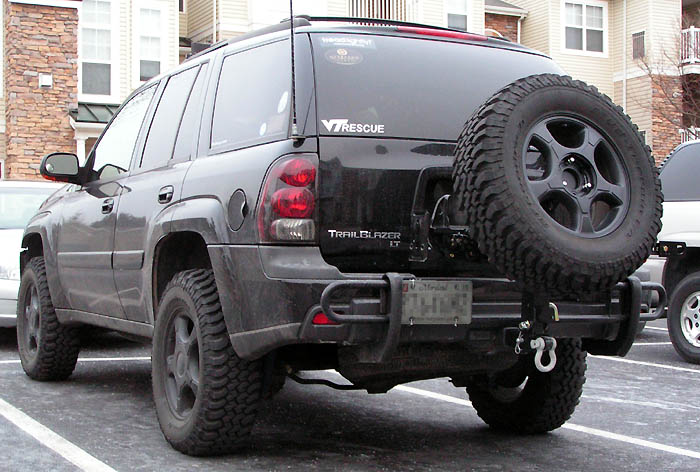 Ah yes, the license plate. This is a temporary solution for now. I plan on fabricating a bracket that throws the plate off to the side and relocates a light. But that's a project for another day.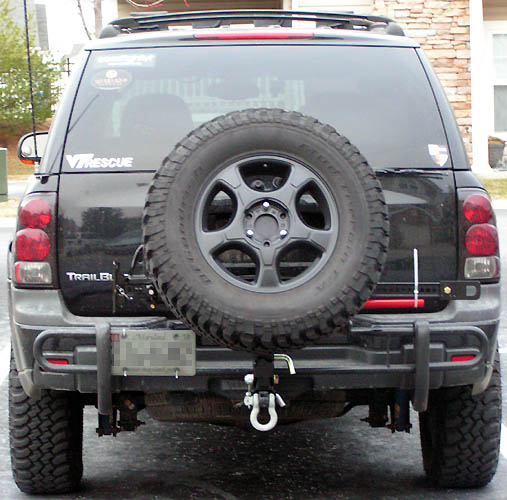 (Yeah, I was so excited to put it on, I completely forgot to remove the old spare... don't worry it's gone now... but so is the daylight. No more pictures today.)
Steve was great to deal with, as he understood my concerns and specifications, and delivered with a great product. I only have two gripes. One, is that I wish the carrier dropped down a bit more. Currently my shackle bracket interferes with the tightening knob. So, it can be lowered further if I take out the shackle bracket. Still, it cannot be lowered to a level point, which could be useful. The second gripe was shipping length. It was shipped by freight through Fastenal. I guess because I was anticipating the shipment, it seemed to take forever (two weeks). Hopefully it was just a fluke.
Overall I'm very pleased. If anyone is interested, Steve takes orders by e-mail (found on his website
http://cbioffroadfab.com/
) and then he makes them custom to your specifications. Plus, its a great value. I paid $320 with shipping included. Thanks again Steve for a great product and great customer service!