Hi all
Maybe it's good to say in the begining that I'm from sweden, my english is thus not perfect, some times I don´t find the right word or a way to express myself and my spelling would probebly not be so god =)
Any way, if someone are intressed I´m as I already said from sweden, I work as en economic, and my 'Wife' (not married, but more than girlfriend) work as a laywer for swedish taxoffice (yeah I know, a pain in the ass =) )
How ever, I got a Trail home here who is a great car in all mods except for when it need petrol, (the swedish petrol price is about 1,4$ for one litter - about 3 cans of 33cl Coke)
Ok, now to my question, I want to make a lift on my car and make it possible to fit as big tires as possible BUT i still use the car everyday so it has to work onroad to, I have think about 265-75-16" or maybe as biggest 33"
my question is, what do I need? is it possible? what would be perfect for me? In sweden we got a lot of snow some months every year, and also bad roads, some times no roads att all =)
I find thoose pics at the web: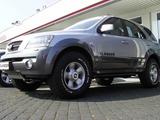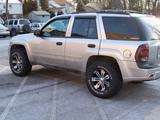 the KIA I just post to imagen how I want the tiers to fit and look in the fender (or what the name is, a translate from swedish would be wheel-house, understand?)
The silver one? anyone who know the options?
The blue one is a bit to extrem maybe, 33"?? something between there maybe
Hope you all could give me som positiv replays
it's f*cking late here so I have to sleep now
Regards to you all!